Guangzhou Oktoberfest
China Hotel, A Marriott Hotel welcomed more than 600 VIPs and media representatives for the 6th Annual Guangzhou Oktoberfest 2010 Opening Night from 6:30pm to 11:30pm in the Oktoberfest tent. Representatives of the Consul General of the Federal Republic of Germany in Guangzhou, German Chamber of Commerce in South China, China Hotel, A Marriot Hotel, TÜV Rheinland (Guangdong) Ltd, Losberger Shanghai Co. Ltd. Guangzhou Branch, Jade Cargo Airline, Mecedes-Benz, Lufthansa German Airlines and the Garden Hotel, as well as more than 16 media outlets attended the Opening Night, and learnt more about the annual event, its history and its culture.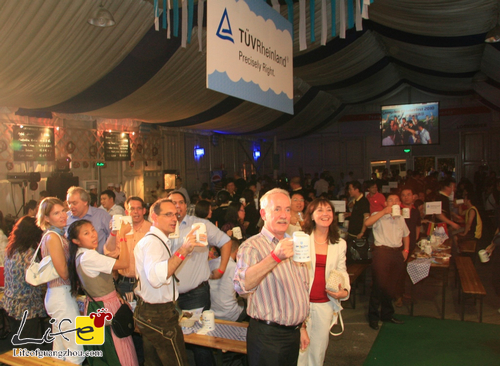 China Hotel, A Marriott Hotel has been a proud supporter and host of this annual event for the past 5 years. After the "Tap the Keg" celebration and toast, the event was officially open: China Hotel, A Marriott Hotel's award-winning culinary team, accompanied by visiting German Chef Manfred Knoepfle prepared a non-stop supply of authentic German delights, including those longstanding traditional dishes of Schnitzel, Sauerkraut and Spaetzle. Additional dishes, known only to the more 'cultivated' German connoisseurs, were also offered, with of course enough Wurst and Bretz'n!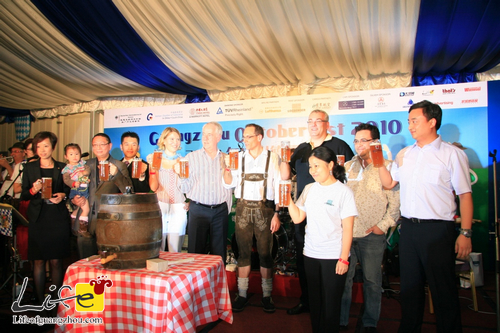 Event goers enjoyed the live traditional Bavarian music, took part in German beer drinking competitions, and had a barrel of fun with various games and activities. Entertainment was provided from Germany's very own Münchner Musikanten, a vibrant, fun-loving and passionate band guaranteed to involve the crowd in hilarious animated stage shows and activities. Guest were encouraged to get up on stage, clap their hands, dance on the tables and sing out loud – which they all did!