Taste Yunan Restaurant
Guangzhou is known as the food haven of China. Chinese love to eat and you will find some of the best delicacies in small and quant places. One such place is the Taste Yunan Restaurant located in Tianhe Bei and it's easy to find even for a foreigner like me.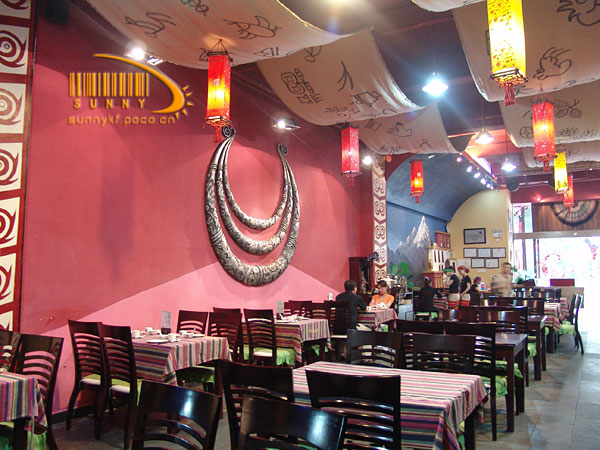 I arrived early before my friends and was happily greeted by smiling girls dressed in ethnic clothing from the famous Yunan city of Dali. Upon entering the place the first thing that caught my eye was a large carved stone caldron that was a beautiful sculpture, as the entrance center piece that later I found to be in the family of the owner for several hundred years... My friends arrived and we were guided by a brightly dressed hostess to a private table and we were joined by the manager and our host, Ms Grace, Zheng Jiao, a very elegant, sophisticated and gracious lady, and a native of Dali, she started the restaurant in 2004 and since then opened a comapny that specializes in importing and exporting of very specialty gourmet foods from all parts of the world.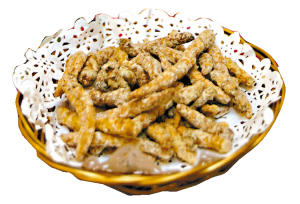 After introductions and being seated in one of the cozy semi private rooms we were served a special homemade cold glutinous rice wine with a sweet flavor and a dish of deep-fried ginseng roots, Yunnan style (炸地参) that were absolutely a delight. They were crispy and crunchy with a sweet flavor. This was followed by marinated yak meat, "Sagarila style" (香格里拉牦牛肉) and a very unusual dish of finely shaved stir fried tree bark covered with Dali sauce (喜州树胡子) and both were most unique and tasty flavor. The next course was a ring-shaped mushroom with chili (牛肝菌), being a lover of many different mushrooms, each bite of this one with its brown sauce was so succulent. I believe it was referred to as cow liver mushroom.
Next came a most unusual dish I enjoyed very much, baked eggplant with a finely minced pork in a tasty sauce (瓦片烤茄子), along with a Highland Barley cake (青稞饼). I might add the eggplant was not at all oily and the great flavor of the eggplant could be experienced as it should. For me, the next dishes were the highlight of the meal oven roasted sliced pork covered with a spicy chili sauce (风味烤肉) and stir fried Huitiao green leafy vegetable (灰挑菜), so moist and was the meat, and you could easily taste that the vegetables were freshly picked. And last but not least crispy fried spring rolls stuffed with wild mushrooms (脆片野生菌卷) that had a different flavor and texture than the other mushroom dish. We even got to see the native girls from Yunan dressed in their beautiful dresses perform a couple of dances with Yunan music. It was a very special treat which was applauded by all the patrons. The food, the atmosphere, the service, the cleanliness, the décor, the conversation, all contributed to a lovely evening which I will always remember and relish the idea of returning to try some of the many of the other delicious dishes I saw other restaurant guest enjoying.
Add: No. 101, 445-459, Tianrun Lu, Tianhe Bei, Guangzhou
天河北天润路445-459号101铺
Tel: 020-3882 5917
Openning Hours: 11:00-22:00