Guangzhou Pullman Baiyun Airport Hotel
Pullman Guangzhou Baiyun Airport is located in the heart of the Guangzhou International Airport Complex. The hotel is a 3 minute walk to the departure terminal, 40 minutes by car to downtown and the International Convention and Exhibition Centre. Spreading its iconic message of 'Check in – Chill out', this full service hotel offers well appointed facilities, restaurants and bars, premium conference space, fitness and the latest mobile technologies to stay connected.
The hotel consists of 460 guest rooms, 4 restaurants and bars, 1 banquet hall and 10 meeting rooms, satisfying different travellers' needs. As the only 5-star hotel attached to the Guangzhou Baiyun Airport, the hotel's location is ideal for frequent business travellers.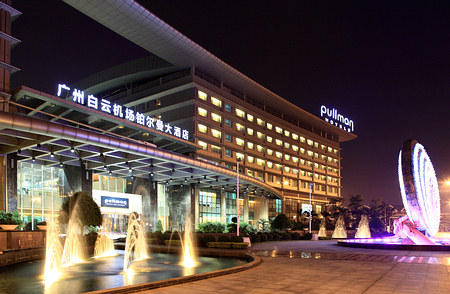 Following the rebranding of Pullman Guangzhou Baiyun Airport in May of 2009, the hotel was certified by the National Tourism Administration Bureau as a 5-star-rated hotel in March 2010. The hotel now becomes the only 5-star global branded airport hotel in China. Pullman, is the upscale hotel brand of Accor.
convenient transportation

From Guangzhou Baiyun International Airport: a 3-minute walk from the Departure Terminal
From Guangzhou Railway Station: 40 minutes by car
From Tianhe Shopping Mall: 40 minutes by car
From Beijing Road Walk Street: 40 minutes by car
From Shangxiajiu Walk Street: 40 minutes by car
From Guangzhou International Convention and Exhibition Centre: 40 minutes by car
From Guangdong Olympic Stadium: 60 minutes by car
Subway to downtown to be opened in 2010
Add: Guangzhou Baiyun International Airport, Guangzhou 510470, Guangdong Province, P. R. China
Tel: +86 (20) 3606 8866
Fax: +86 (20) 3606 8899
Email: info@pullmanguangzhou.com
Website: www.pullmanhotels.com / www.accorhotels.com.cn