The East China Sea Crystal City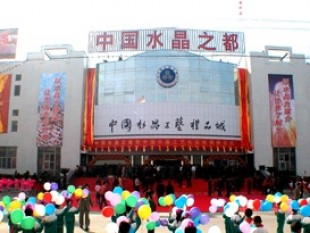 The East China Sea Crystal City is located in the county, Lianyungang City, Jiangsu Province, East China Sea, was founded in 1992, with a total investment of more than 7000 million yuan, covers an area of 18,000 square meters, business area of 36,000 square meters, more than 700 boutique rooms, over 700 counters. The festival, operating more than 5,000. Crystal City in 2005 trading volume reached 1.5 billion yuan, is expected in 2006 will exceed 20 billion, of which exports accounted for 30% of Crystal City, driven by, the county has more than 10 million people in the crystal industry, the whole industry annual turnover of 6 billion yuan, the crystal industry has become an important pillar of the East China Sea economy.
The East China Sea crystal quality, reserves and production are among the first in the country: silicon amounted to 99.99 percent, known as "the East China Sea Crystal the world" reputation; reserves of 300,000 tons, accounting for more than 70 percent of the country; annual extraction volume in 1000 tons, accounting for more than half of the country.