TORO TORO
Place for Spanish Flavor
Add: 7, Qingcai Gang, Jianshe Liu Road (Near Garden Hotel)
建设六马路青菜岗7号
Tel: 8371 0259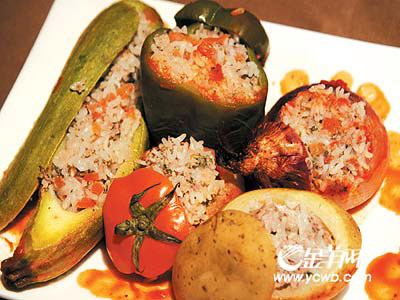 Only two restaurants cater to Spanish tastes in Guangzhou, as Spanish food has traditionally not been very popular here. The oldest is Toro Toro in Jianshe liu Road near the Garden Hotel.
Toro, meaning "bull" in Spanish, is a showcase for the passionate Spanish personality. Here, walls are painted rough khaki, wooden window frames sport white cotton curtains commonly used in Spanish villages, red blossoming carnations adorn the tables and Flamenco music is in the air. All combine to suggest the setting of a relaxed back-alley restaurant in Spain.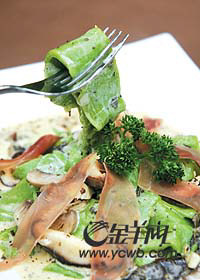 Xavier, the restaurant's Spanish chef, is a young man who says many of his inspirations come from Gaudi and his architectural art. Like the straightforward Spanish people, Spanish food is served in its original state without too much embellishment, preserving its authentic tastes. Ingredients, mainly seafood and vegetables, are cooked in simple and healthy ways.
Unlike other western food styles, Spanish appetizers are quite simple. "Red Pepper, Sausage and Quail Egg," as its name suggests, is a single piece of bread with a slice of sausage, a fried quail egg, and a piece of red pepper on it. Sincere and original, beautifully simple.
The restaurant also has a tempting rice and seafood dish, with the rice first cooked in a thin consomme of boiled fish heads, then stewed covered in a metal plate together with luscious shrimps and sleeve-fish. A taste of this rice The cod could even be mistaken for an imaginative Gaudi architectural work; and the dish layout is unparalleled among western foods. As the cod lies on a snow white plate with a giant translucent fried mustard leaf, the dish looks akin to a realistic work by this eminent architect. No wonder why the Spanish consider chefs as artists!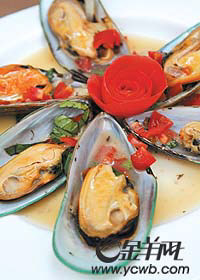 The champagne chicken, like the cod, is also a work of architectural art. After a bath in champagne, the chicken delivers wonderful flavors and elasticity. Devour it in the typical Spanish way, straightforward and natural: pick it up in your hands and gnaw at it. Truly it's another kind of art, to enjoy your food so simply.
The price here is a bit high but worthwhile.