Sincerity the Essence of Milano
Il cibo é l'essenza della vita.... Food is the essence of life. For the Italians, food is a passion and many Italians maintain that they live to eat, they don't eat to live. Mr Ruan, the owner and founder of the Miliano Restaurant is a Cantonese who shares this passion. Currently resident in Milan, having emigrated at the age of thirteen and with years of experience in creating authentic Italian cuisine his restaurant embraces a philosophy of bringing a genuine taste of Italy to Guangzhou. Milano, established in 2003 faces stiff competition from, Little Italy, the Italian Restaurant, La Casa Ristorante Italiano and Carousel, all located in the same area. So, does it deliver the goods?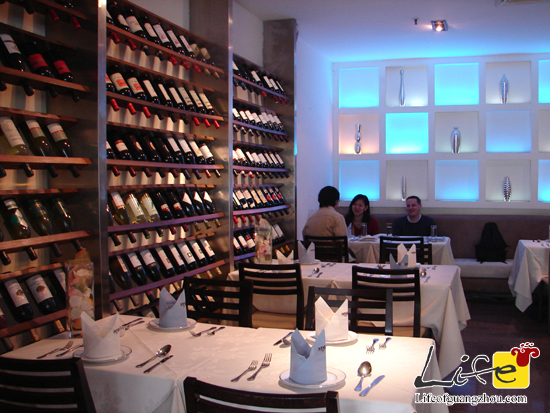 Milano is simply decorated, lightly colored, elegant, relaxed and comprised of a forecourt for eating alfresco and with traditional seating arrangements and booths available inside. Light melodic music filters through the restaurants interior. Situated close to the Garden Hotel, Hill Bar and Elephant and Castle, the restaurant is ideally situated for enticing an ethnically diverse clientele. If you can't afford a trip to Italy but want to savour the authentic tastes of Italy, then the Milano Restaurant provides an opportunity.
Our meal began with an appetizer of "Bruschetta and Crostini". These traditional Italian apetizersis are made with a slice of Italian (or French) bread, toasted in the case of crostini. Various tomato based toppings which could include gorgonzola, parma ham, mozzarella or black olive pate are placed on top of the bread and seasoned with garlic and herbs. Unlike other bruschetta and crostini I have tried, the ingredients at Milano tended to fuse rather than have a predominantly tomatoey taste.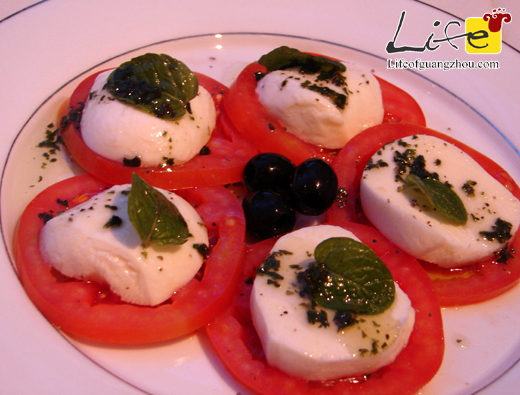 Following this, we were given a salad, "Insalato de pomodori con Mozzarella di bufala". Comprised of a freshly sliced tomato base, topped with hard meaty textured mozzarella cheese and a basil leaf garnish, this salad is seasoned using salt, ground black pepper, olive oil and balsamic vinegar according to taste. The three colors of the salad; red, white and green represent the Italian flag.
Next came the soup, "Zuppa mista di Frutti di Mare" an assorted seafood soup including fish, lobster, oysters, leeks and saffron. The taste is smooth, distinctive and slightly tangy, which I put down to the clever use of saffron. It takes a light hand with other flavors in the same dish to feature saffron. Even though its flavor is distinct, other herbs and spices, even those that are complementary, can easily mask its subtlety.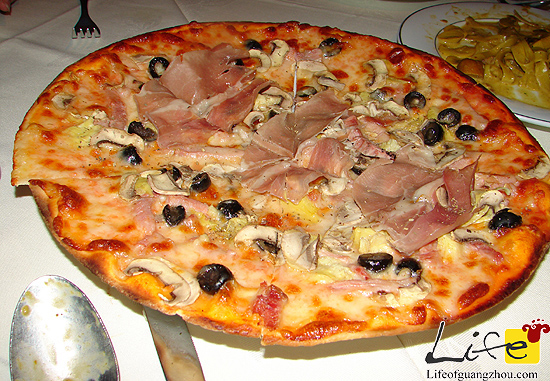 No visit to an Italian restaurant is complete without trying pasta and pizza so next we tried the "Tagliatelle ai Funghi Porcini", Tagliatelle with Porcini Mushrooms in Garlic Sauce. This was a new one on me and I found the taste to be strong, definite even pungent in the positive sense. The unique flavour of this dish is produced by the imported porcini's, a rich, heady, meaty mushroom that can come in various shapes and colors. Many mushroom foragers find porcini under pine trees, but it is well known that the best porcini are picked in chestnut woods. The taste of the woods came through clearly in this dish.
I've tasted many pizza's in many places over the years and the pizza we enjoyed at the Milano is up there with the best of them. The "Speciale di Milano" has a tomatoe base, ham, artichokes, black olives, soft mozzarella, mushrooms and parma ham. The tomato base is produced after extracting excess water and the pizza bread is thin, crispy and baked in a stone based oven – as a real Italian pizza should be. The Italians say that pizzas fall into two catergories – Italian and the rest of the world, a Milano pizza is genuinely rooted in the former.
The last dish before desert, "Pettodi Anitra in Salsa di Arcania", is made with duck breasts delivered on a bed of mashed potatoes in an orange sauce and is more typically eaten during the summer. The style of this dish is Sicilian. The meat is tender, succulent and slightly salty, the mashed potatos savory and the orange sauce full-blooded and sweet. This dish is a paradox to the extent that the apparently contradictory flavours actually combine producing a plethora of taste.
Finally came the dolci (dessert). Tiramisu is the most well known and frequently tried Italian dessert so we sampled "Crema di Caramel" as an alternative. Complex and time consuming to make, the texture of the desert is moist, creamy as expected, fragrant and with a sincere, decadent caramel taste.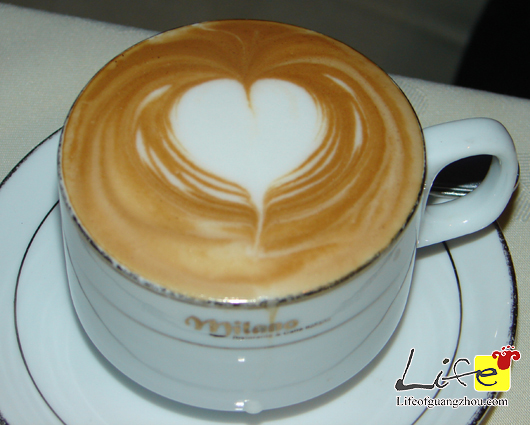 We rounded of our meal with a cup of suitably decorative cappuchino. Needles to say, the Milano offers a wide selection of authentic Italian appetizers, soups, salads, entrees, main courses and deserts that can be accompanied by a luxurious coffee or fine wine. Prices start at 20RMB for appetizers and soup, 28RMB for salad, 45RMB for an entrée, 68RMB for a pizza and main meal and 22RMB for a desert. If there are negatives that can be applied to the Milano, then I would say that the decor is a little too simplistic for my taste, and that the prices of some dishes are debatably a little on the expensive side.
All in all however, "Dare a Cesare quel che è di Cesare". This Italian saying translates into English as, give Caesar what belongs to Caesar. The idiomatic meaning is: Give credit where credit is due. In terms of providing an authentic taste of Italy in Guangzhou, full credit to the Milano Restaurant.