Guangzhou New Chimelong Hotel
This five-star hospitality provider is the largest ecological hotel in China. Just opened in January, 2009, it features vast natural theme park landscape.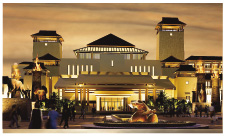 All the buildings are around an artificial ecological island in its central courtyard, where tamed rare animals like white tigers, flamingo and so on loiter in forest and near lakes and waterfalls and greet guests. People can appreciate the safari scene in close range just on their balconies.
The big hotel is integrated with the Chimelong Hotel, next to Chimelong parks and Heungkong Safari Park
Features:
* 1,500 rooms with safari setup
* 9 dining and night-life lounges
* 30,000-square-meter convention center
* 36 function rooms
* 5 theme parks neighboring around
Tel: (86 20) 8478 6838
Fax: (86 20) 8479 1666
Web: http://www.chimelonghotel.com/
Add: Yingbin Road, Panyu district, Guangzhou