A Taste of Old Canton
Guangzhou Restaurant
The 'Guangzhou Restaurant', located at the corner of Wenchang Nan Road and the famous Shangxiajiu Street in the Li Wan district, has a long and distinguished history dating back to 1935. The restaurant can cater for as many as 10,000 people a day and has branches as far apart as Hong Kong and Los Angeles. Comprised of three floors, the first offers a selection of Chinese and Western food. The ethos of the restaurant however is to provide traditional Cantonese food and you can find plenty to choose from on the second and third floors.
Ming-style arm-chair and window-etching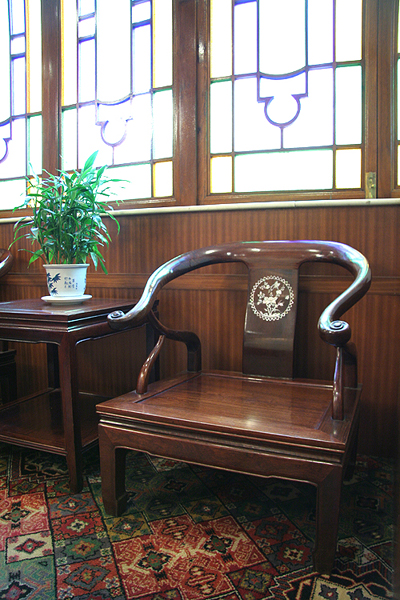 The layout and décor is typical of a traditional Cantonese restaurant with courtyards and rooms of various sizes on arcaded corridors. However, the restaurant has a few distinctive features of its own, most notably a Rong Shu (tree), growing in the middle of the restaurant and a selection of hand crafted stained glass windows dating from the Ching Dynasty (1644-1911). If you would like to sample some traditional Cantonese food, history and culture all at the same time, then the 'Guangzhou Restaurant' is well worth a visit.
Alan finds no trouble with chopsticks in tasting the Cantonese delicacies at the Guangzhou Restautant.
For starters you could try the 'Dong Gua Chen Oi Ya Tang', which is a crisp, full-flavored soup made with duck and Chinese watermelon. Alternatively, sample the 'Lu Shui Hua Sheng'. These are peanuts, at least twice the size of your average peanuts, soaked in water and slowly simmered with a selection of herbs and spices. The nuts originate from North East China and have a mild taste and almost creamy texture.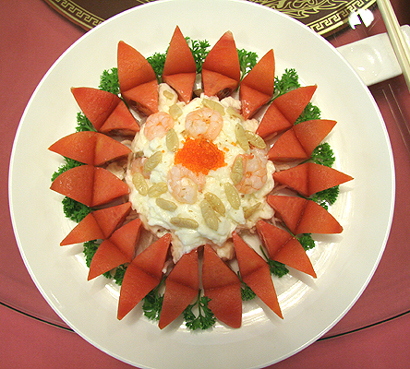 Some dishes typical of the restaurant include 'Si Bao Chao Niu Nai', which translates as 'fried milk'. This dish is 80% milk and 20% egg white, which is mixed together, fried, and served with ham, shrimp and olive kernels. The texture is similar to scrambled eggs but much smoother and the white color of the dish makes it distinctive. It has a slightly salty taste, which combines well with the sweet taste of the olive kernels.
Fried Milk
Steamed Guiyu fish
'Gui Yu Xin Zhuang' is a steamed fish, which is served whole, boned and tailored into bite size pieces in a light soy sauce. Strips of fish meat are placed around a slice of pickled vegetable and bound with aromatic caraway leaves - a biennial Eurasian herb (Carum carvi) belonging to the parsley family. The taste of the fish is delicate, providing an interesting contrast to the sharp taste of the pickled vegetable and fragrant caraway leaves.
'Hong Shao Rou Chao Feng Yan Guo', is primarily comprised of small, roasted, yellow colored nuts produced by the Peng Po tree, about half the size of a chestnut and similar in taste and texture. These nuts are roasted and served with pork and vegetables. This dish is healthy and rare as the nuts are only available during the months of July and August.
Other dishes include: 'Wen Chang Chicken', 'Kapok Duck', 'Deep Fried Duck Palm', and 'Three-colored Lobster'. The restaurant also offers a wide selection of deserts including 'milk tarts' and an edible Chinese chess set made with sugar, egg white, coconut and coco powder. The moon cakes of Guangzhou Restaurant are famous.
Finally, if you have something special to celebrate and feel like 'splashing out' you could try the 'Man Han Da Quan Yan' which can be translated as 'Emperors Banquet'. This is a vast selection of dishes served by staff wearing traditional clothes worn by the servants of Emperors during the Ching Dynasty. Step back in time and enjoy the tastes of old Guangzhou.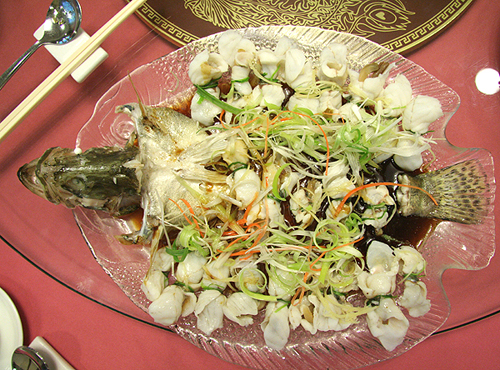 Prices are reasonable and you can find enough to eat whatever your budget.
Address: 2, Wenchang Nan St., Liwan, Guangzhou
Tel: 8138 0985, 8138 0762, 8139 5253