The 7th China Yiwu Auto Accessories parts Fair & Yiwu Motorcycle/Leisure Vehicles/E-Bicycle/ Bicycle/ Parts Fair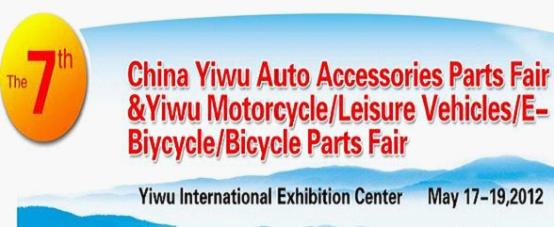 CITY: Yiwu China
VENUE: Yiwu International Exhibition Center
VENUE ADDRESS: the intersection of Zongze Rd & East Jiangdong Rd, Yiwu, Zhejiang, 322000 China.
Official Website: http://www.autopartsfairs.com/
E-Mail: ywmingshi@yahoo.com.cn
Tel: +86-579-85236222
Fax: +86-579-85201858
INDUSTRY: Auto Accessories parts Trade Show
DATE: 2012-5-17 ~ 2012-5-19
The 7th China Yiwu Auto Accessories & Parts Fair
Meet in the global trade center - Yiwu
the international platform of leading the trend of automotive and relative industry
The brand fair major support from the Government
Organization:
Host:China Auto Parts Industry Company
Assistant:Yiwu Auto accessories industry association
Assignment:Yiwu Mingshi exhibition Co., Ltd
Support:Yiwu city people's government
Relying on strong market: Yiwu, is the worldis largest commodity distribution center and the first place in the country markets of China for continuous 14 years, with the market of 2.6 million square meters. Yiwu has about 58000 trading booths. The market gets 43 Industries 400,000 Commodities together, posing a huge seller groups. Everyday the amount of travelling merchant is more than 300,000 constituting a large group of buyers. In Yiwu Industry Analysis Reports, it is said that the industry of automobile accessories will have great development with potential and the best prospect in the future. Yiwu Government Auto articles as a very important market development project and give aid to it, and in order to make Yiwu become the marine of auto articles, and the paradise for auto shoppers. So the government endeavors to build Yiwu as a capital of auto articles. Meanwhile, there are the chain of auto-related services, vehicle modification and beauty services, vehicle maintenance and repair services, automotive financial services, after-sales service, distribution services, and other automotive service industry around Yiwu. And all of these services develop towards homogenization, branding and internationalization.
Flourish international trade: More than 4,000 well-known domestic and oversea enterprises have brought together to set up franchisee and general agent in Yiwu. The resident foreign merchants have more than 10,000. The companies from more than 100 countries and areas have set up branches in Yiwu Such as United States, Germany, South Korea, Japan, France, Brazil and the Middle East etc. Each day more than 2,000 standard containers were exported to 212 countries and regions. Eight of 20-Global Shipping Groups have set up Office in Yiwu. There are more than 9000 bank accounts that set up by foreign merchant in Yiwu. Today, Yiwu has become an "strong magnetic field to attract foreign investors. "Whoever found Yiwu advanced, who seize the opportunity." Seizing opportunities, they should choose Yiwu. Choosing Yiwu is integrated into the global market!
The competitive brand exhibition: The 4th Yiwu Auto Accessories & Parts Fair is sponsored by the authoritative departments. And it was affirmed by the relevant government, overseas institutions, trade associations, leaders and businessmen. The former two-time highlights show the great charm and potential of the worldis great trade centers---Yiwu, which is a highly externally-oriented and never come to a close of a fair. The exhibition show YWAAF take full advantage of Yiwu--- the worldis flow of trade center is a highly externally-oriented event. The fair is scheduled in the Yiwu exhibition center each year in May.