The 10th China (Guangzhou) International Expo on Pro SoundLight & Enping Microphone 2012

Date: Feb. 29th --March 3th,2012
Venue: China Import and Export Fair Pazhou Complex
Website:http://www.soundlight.cn/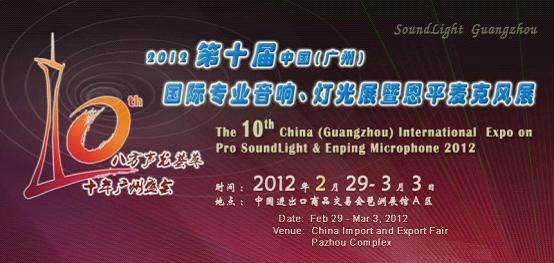 Approved by:
The Ministry of Science and Technology of the People's Republic of China
Organized by:
Department of Science and Technology of Guangdong Province
Department of Culture of Guangdong Province
Enping Municipal People's Government
Guangdong Science and Technology Exchange Center with Foreign Countries
Managed by:
Guangdong International Science and Technology Exhibition Company (STE)
Supported by:
China Association of Recording Engineers
Guangdong Entertainment Association
Guangdong Association of Recording Engineers
Guangzhou University AV & Lighting Technology Institute
Guangdong Hi-Tech Enterprise Association
Exhibit Profile
•Professional lighting equipment
•Laser technology and special effects equipment
•Professional audio equipment
•Broadcasting and recording equipment
•DJ equipment
•Conference and P/A systems
•A/V technology
•Stage, studio and event technology
•Pro-audio and lighting-related computer hardware and software acoustics technology
•Pro-audio and lighting accessories
•KTV equipment
•LED display screen
•Related services, association and media
Pro-Sound & Light Guangzhou
—— Grand Event in China's Largest Industrial Base of Pro Sound & Light
Guangdong Province is the largest industrial base of pro audio and lighting in China. Over 80% of pro audio and lighting products are manufactured in Guangdong and are sold around the world. According to Department of Science and Technology of Guangdong Province's estimation, Guangdong's LED lighting market will exceed twelve billion US dollars in 2015, taking up about 50% of the global market share.
•2011 Record-breaking exhibitor and visitor number
With 8 exhibition halls (4 pro sound halls; 2 pro light halls; 2 musical instrument halls), The total exhibition area of the 2011 show reaches 56,000 m2.
842 exhibitors, including 590 pro SoundLight exhibitors and 252 musical instrument exhibitors, participates the show, with an increase of 64% compared with that of last year. Visitor number also boosts to 35,128 with an increase of 37%, which is even higher than expected.
•Two Industrial Bases Jointly Present the Premier Show
Pro-SoundLight Guangzhou Expo, successfully held for 7 years, is advantageously footed among two important industrial bases----Guangdong, the pro audio and lighting base; Enping city, the microphone import and export base.
•Invaluable Field Survey Opportunity
Held in the largest industrial base, Guangzhou Expo enjoys exclusive geographic advantage for a field survey. Visitors can not only visit the show on spot, but can also make a field trip to exhibitors' nearby factories conveniently, helping them find the most reliable partner in China.