Our Service
Our Service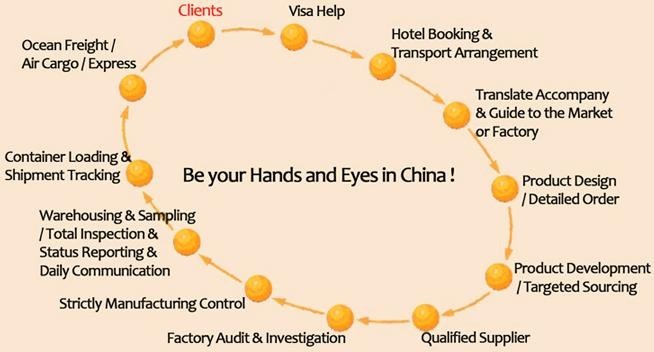 We can provide all the services you need to export from China, such as sourcing, guiding, translation, purchasing, quality control&inspection, document preparation, custom declaration, shipping etc. Our services is not only limited in Yiwu city, we can help you to do business in any other places in China. We would like to be your trusted partner in China.
With years experience and hard work, we have more than 10,000 qualified factories network which coverd most kinds of products and we have summarized a variety of solutions and kinds of service to meet our customers' requirement.
According to the different emphasis point of customers from different countries, such as the customers from South America pay more attention to the price, so we will provide them with the most competitive price directly, but customers from Europe and North America pay more attention to the quality of products, so we will strictly supervise every link during production to ensure quality for our customers.
Different kinds of service can be offered in accordance with different requirements of customers. If our customers just need us to do the third party inspection, we will only charge for the inspection fees, which means that our customers can have the inspection service separately instead of paying commission and the cost will be 100$/Day+Travel Cost. If our customers just need translation service, we can provide English, Spanish, Russian, Arabic and so on and other small language classifications translation services. The expense will be daily charged.
For more information about our service,please contact us!
Our services process:
Before you come to yiwu
1. Advise you the best time period for your business trip to China.Source the suppliers and arrange the meetings for you before you come to China.
2. Issue China Invation letter (Business invitation or official invitation.We can also help you about the visa issues) .
3. Book hotel for you with the best discount.
4. Airport pickup from Yiwu,Shanghai,Hangzhou .
When you arrived yiwu,start your purchasing
1. Guide you to visit the right product markets and visit all the shops one by one, or visit the good factories if neccesory
2. Translate and negotiation for Prices between you and the supplier
3. Note down the order ,write all the details such as :article No description, quantity, size, colour, package details, cube meter,at the same time take the photos for all the goods you have ordered.
4. Make order form for you to check the price, total amount, total Cube meter.
After you Complete yiwu purchasing
1. Place orders which are with the product pictures to all the suppliers
2. Follow every order to make sure the goods producting will be complete According to our expected time. Report process to you step by step
3. Free warehouse storage ,we collect the goods to our own warehouse and inspect the goods to make sure the orders are according to your requirement.
4. Distribute payment for goods to your suppliers
5. According to customer's request, book shipping space and arrange shipment.
6. Prepare the export documents concerned. To declaration China customs .
7. Make foreign country import documents .
8. Send all the document together with B/L by express deliver, for you to do the Customs clearance.
When you are not in China. We can be your reliant business assistant
1. If you have any products need sourcing in China,We will try to give you the quotation in short time.
2. Send the latest,popular and related products information to you.
3. Inspect the orders for you. If you ordered from other factories, We can go to the factory and inspect the quality, quantity,packing details and all the others. And then send you a inspect report to you to make sure the order is according to your requirement.