Locomotive Restaurant with Romantic Ambience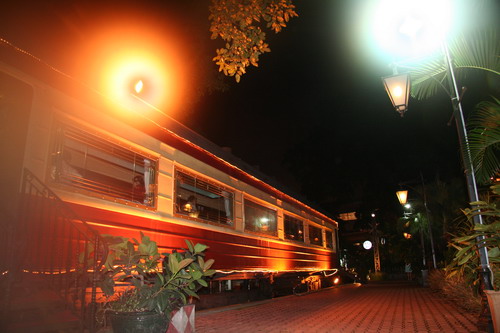 Add: 1, Shamian North St., Guangzhou ( 广州沙面北街1号)
Tel: 8121 8882; 8121 5226
Business Hours: Sat-Sun 11.30am-1am, Mon-Fri 5.30pm-1am.
All cards.
Facade of carriage
Nestled among trees at the eastern end of Shamian Island is the Locomotive restaurant, comprising a main "station" building nestled between two railway carriages. The carriage on the left has been done out with two private
banqueting rooms, the one on the right – originally a dining car – is done out in mock-1930's style, with period tables, chairs, carpets, light-fittings, original wooden floors and window frames. Perched on its own short piece of
railway track, it even creaks and shudders every time someone gets on and off – or should I say 'boards' and 'alights' - the carriage. Lighting is indirect – there's not a fluorescent tube in sight!
The menu is international, with dishes from a variety of countries, and very well done. An Italian-trained chef served up Mushroom Soup and Farmer Pumpkin soup at 18RMB each, followed by Grilled Duck Breast (28RMB), Grilled
chicken with lemongrass (38RMB) and Baked Sole Fillet with Champagne Cream Sauce (58RMB). Far too lazy to deal with shells in the midst of plenty, I left the Curried Crab (68RMB) to more devoted diners and heard no
complaints, as I waited for the "big guns". And out they came; a Side of US Beef in pepper sauce (98RMB), Roast Lamb Loin in red wine sauce (68RMB)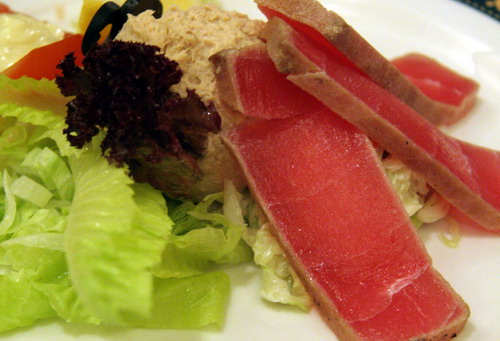 My favourite was the Sole Fillet – the sauce was decadent and smooth, the fish melted in the mouth. Meanwhile, my teeth found the beef a little combative – which is notalways the fault of the kitchen given the difficulty in Guangzhou
of sourcing consistently good beef. Best dessert was the Chocolate Pudding, though it had strong competition from the Tiramisu which my Italian companion went into raptures over.
The "Station" is a larger dining area featuring leather chesterfields and a curiously simple but effective lighting system, which illuminates in turn the names of famous European railway stations – Gare d'Orsay, Gare St. Lazare,
Stazione S Lucia, to name a few. It will bring back memories of home for visitors from Europe.
A little hard to find, but worth looking for.