Guangzhou Grand Hyatt
Hyatt Hotels & Resorts has opened its first Grand Hyatt in China's Guangdong Province, Grand Hyatt Guangzhou.
The 375-room hotel features cutting-edge, warm guestrooms, and restaurant and bar interiors, also high levels of modern aesthetics and business, meetings and function areas.
Grand Hyatt Guangzhou will be the fourth Grand Hyatt hotel in mainland China, following Grand Hyatt hotels in Beijing and Shanghai.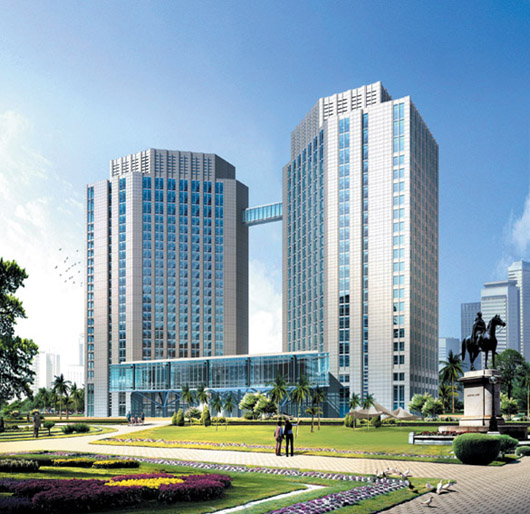 From the moment a visitor steps through its theatrical threshold, there is very little about the new Grand Hyatt Guangzhou that does not pique the visual sense. A huge slab of sandstone forms one wall and is set with warmly illuminated windows; a wall of glass looks out over a park, a green oasis in this neighbourhood; and an indoor bamboo garden is strikingly intersected by a glass bridge above it. It is not merely hype when the renowned California-based architect responsible for the hotel, Peter Remedios, calls his latest project, scheduled to open in spring 2008, "an architectural tour de force".
Situated in Guangzhou's new central business district of Tianhe – whose English name is Pearl River New Town – Grand Hyatt Guangzhou is located in one wing of a brand new streamlined twin-tower building. The hotel's understated façade contains cutting-edge new architectural features and interior design devised by Remedios, who has won accolades for his work on Grand Hyatt Tokyo, among other hotel projects. This is the first international hotel in Guangzhou to feature a "sky lobby" located 22 floors up; like many other areas in the hotel, it offers expansive views across the Pearl River and Tianhe CBD.
On the third floor, the hotel's three interconnecting sections of the Grand Ballroom can be augmented by fully enclosed VIP and bridal rooms. Six function rooms have been given a residential feel, and a boardroom and Business Centre are also on the same level.
Vibrant artwork here, sourced by reputed Hong Kong-based consultant Sandra Walters, is as striking as elsewhere in the hotel, and reflects aspects of both traditional and modern Southern China.
Hyatt currently operates 10 hotels in Greater China, including Grand Hyatt Beijing, Grand Hyatt Hong Kong, Grand Hyatt Shanghai, Hyatt on the Bund, Shanghai, Grand Hyatt Taipei, Hyatt Regency Dongguan, Hyatt Regency Hangzhou, Hyatt Regency Jing Jin City Resort and Spa, Hyatt Regency Tianjin and Hyatt Regency Xian. An additional 12 hotels are under development.
Tel: +86-20- 8396 1234
Add: 12 Zhujiang Xi Lu, Pearl River New Town, Guangzhou