Dongguan Humen Huanghe Fashion City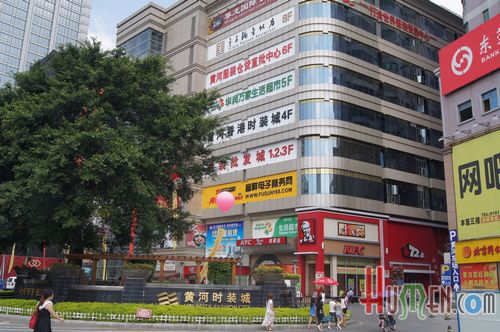 Grade A commercial center is located in the Chinese garment town of Humen Humen Avenue and Silver Dragon Road Interchange. An area of 38,000 square meters, total construction area of 130,000 square meters, a total of 9 floors.

One to the fourth floor of a large fashion wholesale center, there are over 1400 shops. The fourth floor of the Hong Kong Fashion City, also known as a city within a city, its business brand sources such as: Hong Kong, Taiwan, Japan, Korea, France, Italy, Southeast Asia and Western Europe and other countries and regions. With the Century "south wind", to fully develop their romantic and elegant, crafted a unique virtuoso style.

The sixth floor is the main venue of the China (Humen) International Fashion Fair. Its available exhibition area of 17,000 square meters. The main venue of the Fashion Fair has been moved to the Huanghe Fashion City since November 1999, within a short period of seven days during the exhibition, has accumulated to attract customers around the world million Yuren Guang Gu Huanghe Fashion City, greatly enhancing the visibility of Fashion City and city business household turnover;

The eighth floor is a high fashion office buildings and large-scale fashion show center. The operation of the office area of 13,800 square meters, more than 100 Scriptorium. Financial costume design, display, trade negotiations in one comfortable, luxurious, bright and spacious, complete supporting facilities. The office since its opening in November 2002, has attracted more than 100 fashion design from Malaysia, Hong Kong, Taiwan, the Mainland processing enterprises stationed. The center of the fashion show, scale, layout, and supporting facilities, and is released annually, well-known brands of Humen Fashion Fair Fashion show stage, every year, many apparel brands known to the world from here.

Huanghe Fashion City in southern China's largest and best decoration, matching the most perfect high fashion wholesale center, Dongguan City, a large integrated commercial center. More than 1500 households in the fashion city business fashion industry, households and garment enterprises of both the Pearl River Delta, Jiangsu and Zhejiang, Fujian and even across the country, Hong Kong, Taiwan, Malaysia, Singapore manufacturers. Huanghe Fashion City, both in the spot of the high-end clothing wholesale, retail center, is also a clothing brand franchise center. Fashion City was opened in November 1999, the average daily traffic of tens of thousands of people, fair wear during the daily traffic is up to more than 100,000 people.