Guangzhou Marriott Hotel
Location Situated in the city center, the hotel is the closest international five-star hotel to the Baiyun International Airport and opposite the Guangzhou Jinhan Exhibition Centre and with easy access to China Import and Export Fair (CIEF) Pazhou Complex and Guangzhou East Railway Station via metro.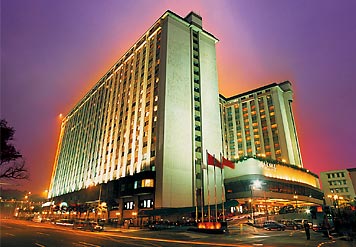 China Hotel, A Marriott Hotel, Celebrates the Winter Holiday Season with a special Winter Package and festive holiday activities.
China Hotel is delighted to offer to their valued guest's their seasonal Winter Package from December 2006 until February 2007. The package includes one night's accommodation in a deluxe room with new Marriott Revive Bedding, complimentary use of the Health Center and a buffet breakfast for one or two guests. This package is offered at the special rate of RMB 765 plus 15% surcharge.
In addition to offering their Winter Package , China Hotel will be inviting their guests to join them in celebrating the winter holiday season. The hotel will be decorated with festive Christmas ornaments for their annual Christmas Lighting Party held on December 1st. The Christmas Choir and the turn down gifts will definitely add to the festive atmosphere. Complimentary red apples, filled with sincerest blessing, are offered to guests in the Lobby during all the Christmas period. On Christmas Eve, guests can enjoy the dinner buffet in Café Veranda featuring such holiday favorites as roast turkey, baked ham, and traditional Christmas pudding. Duck Liver Pate and Duck Liver Sausage are highly recommended on the Christmas Eve.
New Year's festivities also abound at China Hotel. To celebrate the arrival of 2007, China Hotel will be hosting their New Year Count Down Party on December 31. Adding to the excitement of the countdown will be a lucky draw.
For a New Year's taste treat, why not try poon choi? China Hotel offers this traditional dish, which can be traced back several hundred years, for the holiday season. With its rich ingredients and various flavors, this dish embodies the auspiciousness and family love that abounds at holiday gatherings.
For the Lunar New Year, China Hotel will be welcoming in the Year of the Pig with a lion and dragon dance offering wishes of great fortune and prosperity throughout the year.
China Hotel, A Marriott Hotel, is the premier place in Guangzhou for guests and friends to celebrate the holiday season
Add:No. 122, Liuhua Rd, Yue Xiu District, Guangzhou Tel: 86-20-8666 6888
Fax: 86-20-8667 7014
Zip: 510015