Changshu Clothing City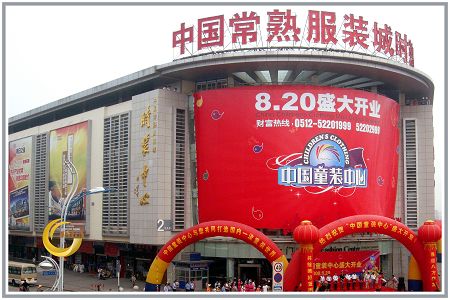 The Changshu Clothing City was founded in May 1985 after 26 years of efforts, has become the country's largest apparel professional market for three consecutive years ranked China's top ten apparel specialty market "top, AAAA countries in 2007level shopping tourist attractions, is the first service area in Jiangsu Province, in 2010, the national human resources and Social Security Ministry, the China Textile Industry Association as the national textile industry advanced collective ", in 2011 the State Administration for Industry and Commerce named the National integrity of the market, the China National Tourism Administration named as "China Tourism wear marketing base" in the general Conference of the China Textile Industry Association recently held elected executive director of the unit.
Changshu apparel city consists of the Chinese men, women, and children's clothing centers, 35 markets, the formation of many types of garments, knitwear, cloth, decorative fabrics, bedding, commodities, shoes, hardware and other business areas. Clothing city an area of 3.71 square kilometers, 3.5 million square meters of business area of the market, shops, stalls more than 30,000, more than 100,000 operating personnel from across the country settled in the mall business, merchants accounted for Changshu, 1/4 market peak season average daily flow capacity of more than 300,000 people, the day the flow of funds of more than 1.7 billion yuan, accounting for Changshu city's 1/10, the market of goods turnover of over 10 billion yuan more than a decade, exceeded 65 billion yuan in 2010. Expected to market turnover can exceed 80 billion yuan this year.