2012 Yiwu fourth China International Tourism Commodities Fair
Update: 2012-05-22   Source: Source: www.FruitfulTrade.com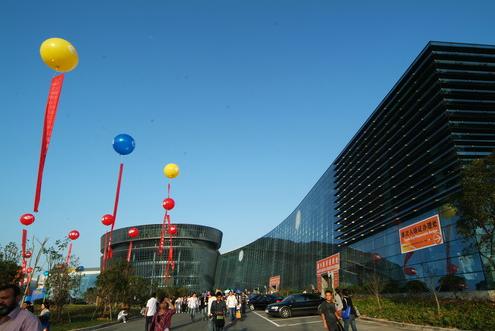 Start time: 2012-05-24
End time: 2012-05-27
Venue: Yiwu International Expo Centre
Organizers: China National Tourism Administration / Zhejiang Provincial People's Government
Sponsor: China Tourism Association / Zhejiang Provincial Tourism Bureau / Yiwu Municipal People's Government
Exhibition Overview:
Travel goods as part of the tourism resources, with a very important role in the development of tourism, the tourism industry chain related industries. Currently, the national tourism product design, production and sales enterprise has a very large scale. Yiwu - the world's largest commodity distribution center, tourism product development, production, circulation area, the world's largest international trade center, logistics center and information center. Yiwu market, the existing business area of 4.7 million square meters, 70000 market place, 170 million single product, and another by professional street-bit 17300 I, Permanent Yiwu Foreign 1.3 million average daily buyers up to 21 million . Yiwu immigration foreign investors amounted to 444 000 people in 2011, 3059 offshore procurement enterprises to set up a representative office in Yiwu, the annual export of 576 000 containers to a merchandise exports to 219 countries and regions.
China International Tourism Commodities Fair attaches great importance to China National Tourism Administration and the provinces, autonomous regions and strong government support, show the grade scale and effectiveness of the record of the national tourism industry exhibition of goods, more than 2,000 booths from 32 provinces across the country. municipalities and autonomous regions and 30 overseas countries and regions tourist commodity production exhibiting companies. First Tourist Commodities Fair realized a total turnover of 2.361 billion yuan, the foreign trade turnover accounted for 36.5%; participants audience of more than 10 million people, including 6280 foreign traders from Pakistan, Korea, India and other 80 countries and regions Online Expo click rate of 131 000 people. The success of the inaugural exhibition organized for industries and enterprises to build a good platform for Trade and Exhibition, has played a positive role in promoting the development of China's tourism industry.
The 4th China International Tourism Commodities Fair was held in Zhejiang Yiwu International Expo Centre from 24-27 May 2012, we invite your participants!
Exhibits:
Hotel supplies: hotel kitchen restaurant equipment, supplies, hotel furniture, desktop supplies, room supporting electrical and lobby supplies, cleaning and laundry equipment, hotel textile fabric, uniforms, hotel security systems, sports and recreation facilities, coffee and tea, food, hotel carpet , decoration materials and equipment
Tourism products and equipment: electric tour buses, (scenic spots, hotels, solar, wind) equipment, leisure and sports bike, hiking supplies, eco-friendly toilets and other low-carbon environmentally friendly products, camp construction, environmental protection and energy saving construction (wood), yacht, RV, recreational playground equipment, hybrid vehicles, scenic and sightseeing car, low-carbon lighting, waste disposal, recycling system, scenic electronic equipment, rescue equipment, etc.
Jewelery and luxury goods:
Jewelery, jade, amber, tourmaline, coral, pearl, sports cars, luxury cars, luxury goods, etc.
Outdoor leisure products: golf products, ski equipment, surfing, skateboarding, diving apparatus, bungee equipment, rafting equipment, fishing equipment, climbing equipment, climbing equipment, backpacks, sleeping bags, tents, wearing equipment, outdoor stoves, outdoor tools, outdoor lighting positioning and navigation equipment and other
Tourist Souvenirs (crafts, the Tute food, travel fashion goods): tourist souvenirs, local tourist handicrafts, religious tourism products, tourism, collectibles, gifts and packaging products, tourism, food, tourism and information technology products, tourism, electronic guide device, tourism and transportation electronics guide equipment, travel, digital products, travel clothing (tourism, professional clothing, travel and leisure apparel, specialty travel clothing and so on.