Yiwu Small Commodity turnover of nearly one billion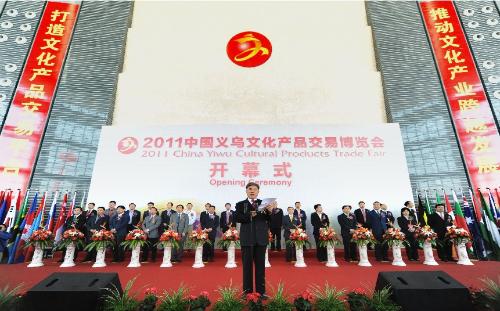 The first quarter of 2012, Yiwu Small Commodity turnover of nearly one billion
Adhere to the market the outward characteristics of the development as the country's only international trade of comprehensive reform, Yiwu, constantly optimize the development environment, and actively explore new markets, foreign trade and exports continued to maintain a steady growth momentum. According to data revealed by the Yiwu Industrial and Commercial Bureau, the first quarter of 2012 Yiwu bazaars total turnover of 14.42 billion yuan, an increase of 7.45%; China Commodity City turnover of 9.864 billion yuan, an increase of 9.1%.
According to related statistics, in January-February this year, Yiwu import and export total value of $ 520 million, an increase of 8.7%, an average increase of 5 percentage points higher than the import and export of Zhejiang Province. Which self-exports of $ 470 million, an increase of 7.3%, imports of $ 053 million, an increase of 22.1%.
Achievements did not come easily. Since 2009, Yiwu successfully deal with the impact of global financial turmoil, European and American debt crisis, the situation in the Middle East turmoil and a series of unfavorable factors, which are the combination of the positive efforts of the Yiwu from all walks of life and unwavering. Earlier this year, Yiwu, held for the first time carry on the "innovation and excellence, quality and Improve Efficiency" theme and the "village into the enterprise (market)" Great visited the mobilization meeting so as to enhance the effectiveness of the work, innovative aid initiatives positive boost to the transformation and upgrading, fully optimize the development environment.
In March of this year, Yiwu Industrial and Commercial Bureau formally introduced to boost the development of the pilot reform of the service economy, a number of opinions "from the main players in the market access, broaden financing channels, optimize the development environment, cultivate foreign main eighteen initiatives, deepening the five aspects of brand building. ferret out the functional potential to do all the industrial and commercial best efforts of the private economy to grow and develop "drop threshold", the "burden reduction", "excellent service", "improving quality".
Through continuous optimization of the trade and commerce environment, the unique charm of Yiwu International Trade of comprehensive reform is even more apparent. Up to now, Yiwu types of market players has successfully broken through the 170,000 domestic-funded enterprises (including branches) 19700 145 900, individual businesses and 372 foreign-funded enterprises, branch offices, 230 foreign-invested partnerships 516, Resident Representative Offices of Foreign Enterprises 3024.
The same time, Yiwu's main strength has also been further improved, no zone name Enterprise 42, with a crown province enterprises 1095; Yiwu registered trademark of the total 40 038 12, with executive finds that well-known trademarks in China, Zhejiang Province 97, 1839 of an internationally registered trademark, trademark and brand strength for many years ranked second in the national county-level city, Zhejiang Province